Individual Session Fees
Individual Face to Face Counselling & Psychotherapy: £85 per session (50 minutes)
Online (Zoom, FaceTime, Skype) Counselling & Psychotherapy: £85 per session (50 minutes)
Couples/Relationship Counselling & Psychotherapy: £115 per session (60 minutes)
EMDR – Eye Movement Desentisisation and Reprocessing: £95 per session (60-70 minutes – 6 Sessions Minimum)
Counselling & Psychotherapy Supervision: £50 per session (60 minutes)
We also offer academic supervision and mentoring for people engaged in research and writing dissertations from first degree to PhD level. Our current rate is £45 per hour. Please contact us to find out more.
Specialised Programme Fees
Anger Management – This consists of 6 x 1 hour individual sessions. The programme fee is £595, payable in advance. A 15 minute online consultation is required prior to you starting the programme, to make sure the programme is right for you. This is included in the programme fee. Further individual sessions can be booked at the end of the programme if required, at the rates above.
Payment Methods

Payment is due at the end of each session. You can pay by cash, credit or debit card. Online session payments are due prior to each session by card at this link or by bank transfer.
Insurance Cover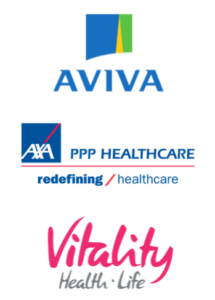 We are recognised healthcare providers with the following insurance companies:
AXA PPP Healthcare
Aviva
Vitality
Your therapy can be covered by your plan if you hold a current policy with AXA PPP healthcare, Aviva, or Vitality. You may need to be referred by a registered medical practitioner, and check that counselling and/or psychotherapy treatment is eligible under the terms of your policy, as well as any excess amounts, which are payable on your first session. Contact us for fees under insurance provision.
Cancellations
If you need to cancel your session we ask that you provide us with 48 hours notice so that we can re-fill your allocated time. As we will not be able to do this at short notice we charge for your session at the full session rate without 48 hours notice. We hope you understand and agree that's a fair policy.
To arrange your first session simply send us a message here.